What is a Cost Per Lead (CPL)?
Cost Per Lead is an online advertising pricing model where advertisers pay for an explicit action from their target customer. This action could be anything from signing up, to providing an email address. The Cost Per Lead formula is as follows
Cost per Lead = Cost of Generating Leads / Total Leads Acquired
Example: Consider your company spent $1,000 on your pay-per-click (PPC) campaign and 10 users convert to leads:
Cost per lead = $1,000/10
= $100
This cost per lead calculator helps measure how cost-effective your marketing campaigns are regarding generating new leads for your company. The purpose of this metric is to provide your marketing team with a tangible amount to understand how much money is appropriate to spend in order to find new leads. Cost per Lead can also be used when calculating return on investment. Additionally, CPL can be used to measure individual marketing campaigns such as ad words, banner ads, and social media ads such as Facebook campaigns.
What is the difference between Cost Per Lead and Cost Per Acquisition Advertising?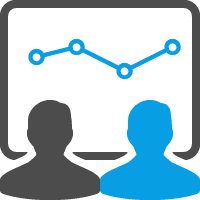 In average cost per lead campaigns, advertisers pay for explicit leads from customers. They are most suitable for brand marketers and direct response marketers looking to reach customers on multiple fronts. In cost per acquisition campaigns, advertisers usually pay for a completed sale involving some sort of monetary transaction such as a credit card or pay pal payment. CPA is all about convincing customers to buy at that specific moment, whereas CPL utilizes remarketing and can continue to contact customers after they have visited the website.
CPL campaigns usually focus on being high volume and lightweight. This means advertisers want to perform a quick exchange to get their information, but they want the transaction to be as simple as possible. In CPL they usually just want an email address, which is short, simple, and concise. In CPA, the transactions are much more complex and usually low volume because they need monetary transaction information such as credit card numbers, verification pins, etc.