Easy to Understand Definition of Content Marketing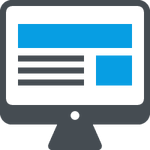 Content Marketing is everything you post online to help tell your story. Investing in great Content Marketing can help your website rank organically on search engine results. Content marketing is made up of many different pieces including photos, videos, words, and audio. It can also include television advertisements, radio, and print ads as well. Content Marketing helps your website rank when people scour the internet for information about particular products and services. By having rich content, people are more likely to visit your web page when performing their information search. The more relevant content that you have, the more likely you are to attract customers and traffic to your website.
---
How does Content Marketing Work?
One extremely effective way of creating content and attracting new traffic to your web page is through blog posts. These posts are free pieces of information that you provide website visitors. While content marketing can be frustrating to start, blog creation is one of the easiest aspects. Great blogs that are continually updated help generate more leads for your business. These leads can boost the number of visitors to your website, phone calls, or email inquiries which can all lead to a greater number of conversions and more revenue for your business.
---
Where is content marketing most effective?
If you are a new business just beginning to implement content marketing then you should focus on finding small wins. This is where your content marketing will be most effective. By finding something you can do quickly and effectively you will generate the best results possible for your business. It is also a great way to get recognized by industry leaders. Small companies just starting with content writing should try and focus on a trend that is already occurring. Examples could be seasonal in nature such as Christmas or the beginning of the school year. Finding something popular with a large search frequency is not always the best strategy because of the high level of competition. However, when you are first growing your business and content marketing material, it is a good way to get your brand and service in front of people.
Communication Importance 
One of the main benefits of content marketing is its impact on your ranking in search engine results pages. Consistently writing new content communicates with Google informing them that your website is important and up to date. This bridge of communication is very important in all content marketing plans. However, what many businesses fail to see, is the importance of consistency with communication. It is easy to blog about the latest and greatest on one network, but if you want to signal to Google that you are a major player you must integrate your marketing communications across all channels and platforms.
In order to have the best and most consistent marketing integration, you must ensure all levels of your business are communicating efficiently with one another. This becomes increasingly difficult the larger your company becomes, therefore, advantage small business owners. If you want to work towards a top of mind level awareness then you must ensure you have a consistent voice across all levels of your business. An inconsistent voice risks driving your target market away and it can be difficult to repair that bridge once it is burned.