What is a Backlink?
A backlink, which is also referred to as an inbound link, an external link, or just a link, is essentially a reference, or citation, from one page to another. When clicked, a backlink connects the user from their current page to another web resource, which may be another relevant web page, website, image, or web directory.
Backlinks are used in search engine optimization (SEO) to increase ranking through white-hat outreach. Backlinks are used as an off-page technique to increase the ranking of a website according to search engine results. Having links to other resources is an example of an on-page technique. Backlinks can take the form of a website URL or anchor text, and can also be added to an image.
How do Backlinks Work?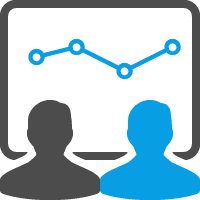 When a website owner or content creator finds information on your site that they consider relevant, helpful, or fascinating, they add a link from their site to yours to enhance the experience for their readers by providing additional information, and to use your expertise to provide evidence for their claims. The number of links and quality of the sources where the links are found affect search engine algorithms in determining how a page ranks. This generally means that the more high-quality links you have from relevant websites, the higher you will appear on the search engine results page (SERP).
Links are like votes that increase your popularity with Google. When reputable sites link to your site, it signals to Google that real people found the information on your site to be relevant and useful. If the site that is linking to you is already considered a trustworthy and authoritative voice, that's even better — search engine bots value links from trusted sites because it's like that site is vouching for you. They wouldn't give their website visitors the opportunity to visit your site if they didn't think it contained information of value to their readers. So, the more backlinks you have from authoritative websites, the more likely Google is to recommend your site by placing it high up in a search result in response to a user's search query.
Why It's Important to Have High Search Engine Rankings
Have you ever searched "your industry + your city" to find out where you rank for those target keywords, only to realize you have to scroll... and scroll... and scroll some more past your competitors' sites to find a link to your website? That's a terrible sign. It's no coincidence that your competitors are above you on the SERP — it's because they are leveraging SEO strategies such as building backlinks to their advantage to improve their online presence.
The fact is that where you rank in search results for the search queries of local, potential customers has a huge impact on the number of leads you are able to generate. High search engine rankings are a key step in long-term, sustainable business growth. The first organic result on a SERP will get nearly 30% of clicks, and it's rapidly downhill from there. The tenth result gets only 2.5% of clicks, and only 0.78% of searchers will click a link on the second page of results. If you're not getting website traffic, prospective clients aren't just ignoring you — they don't even know you exist. There are a number of search engine ranking factors that range from how optimized your site is for the relevant keywords that searchers in your local area are using, to the number of high-quality backlinks you have amassed.
What Are the Benefits of Using Backlinks?
There are a few big benefits of building a backlink portfolio, including:
Builds the authority of your website
Improves your organic search rankings
Brings more traffic to your content and website
Backlinks increase the authority of your website, and they help to increase your search engine rankings, which in turn gets you more attention from potential customers and has a positive effect on your revenue.
Boost Organic SEO Ranking
This is the most important reason to use backlinks, because it's where you reap the greatest rewards for having a strong backlink profile. As we mentioned above, backlinks increase your organic search rankings, which means you're generating more leads and getting your fair share of new clients in your local area.
When you're building backlinks in an attempt to boost your SEO efforts, the relevancy of the links is very important. For example, if you run a plumbing company and a plumbing organization links to your site, that is preferable over a link from a random website that doesn't have anything to do with plumbing. A link from a non-relevant site still helps, but not nearly as much as a one from a relevant source in your industry. Likewise, the geographical proximity also matters because Google always tries to match searchers with results that are relevant to their local area, especially if the search is related to a service that would be performed locally, such as plumbing. That means if your Toronto plumbing company gets a backlink from a Toronto plumbing organization's website, that is even more powerful than getting a link from a plumbing organization that is not local to you.
Increase Ease and Speed of Indexing
Search engine optimization is not an instantaneous process by any means. Google's bots "crawl" through websites looking for SEO signals such as backlinks that indicate domain authority to increase SERP rankings, and that process, which is called indexing, takes time. Indexing is a lot faster nowadays than it used to be, but it can still be a frustratingly slow process for someone who is anxious to get their site ranking and rake in those clicks.
One of the key ways to speed up indexing is to build backlinks that originate on high-traffic websites. The number of incoming links and the page rank of the originating domains directly impact the total number of indexed pages on your site, as well as the speed at which they are indexed. To put it another way, every time a link is added from a high-traffic, trusted site to your own site, it decreases the amount of time it is taking to get your site indexed by search engines and it increases the number of pages on your website that are included in the search engines' index.
Increased Traffic from Connected Websites
This backlink perk doesn't correlate as strongly to indexing or your search engine rankings, but it's still very helpful to get you attention from prospective clients who are interested in your services or products. When we talk about backlinking, the focus is generally on helping search engine algorithms to identify your site as trusted and authoritative. However, it's also important for real people to discover your site by going through a relevant website that they trust.
When a user is on a website they are familiar with and that site recommends your website by linking to it, they are more likely to click that link and visit your site. The referral traffic from that incoming link means that more readers are seeing and engaging with the content on your website, which is an important SEO goal.
What is an Example of a Backlink?
Jake writes a blog about digital marketing. On his blog, he references Digital Shift and provides the URL to their website's homepage. This backlink to https://digitalshiftmedia.com helps Digital Shift with their off-page search engine optimization and helps Jake's blog with his on-page search engine optimization. Jake could use the anchor text 'Digital Shift' instead of the URL to link to Digital Shift's website.
When I Link to Another Page on My Website, Is That a Backlink?
Linking from one page on your site to another is called an internal link. It's not a backlink, which refers to external links, but it is still a valuable tool for increasing search engine optimization on your website. That's because Google's algorithm still "reads" internal links and assigns link value to them. By linking to other pages on your site, you help Google understand which pages contain related content.
Internal links are also helpful for SEO because they can "pass" value from one page to another. For example, if your home page has the most backlinks, or external links, leading to it, Google will see the home page as the most authoritative page on your site. By linking from the home page to a new page of content, you are indicating to Google that the new page is also relevant and trustworthy. Google will find the page faster, and it will score a better ranking on SERPs.
What Makes a Backlink High Quality or Low Quality?
Basically, high-quality backlinks come from websites with high domain authority, meaning they are trusted by both search engines and real people who are engaging with their content. But not just any high domain authority site — the best quality backlinks come from trusted sites that are relevant to both your industry or topic and your geographical location.
On the other hand, low-quality links come from sites with low domain authority, meaning they are unknown to or not trusted by search engines and don't get much organic traffic. They may not be relevant to your industry or topic, and don't contain information similar to the content on your website.
It's worth noting that backlinks are definitely a quality over quantity type of thing. A handful of high-quality backlinks are far more valuable and helpful to your search engine optimization efforts than a large number of low-quality backlinks. That's why it pays to focus your link building campaigns on the most trusted and relevant sites.
Do Backlinks Qualify as Black Hat SEO?
Backlinks are just fine with Google and other search engines. In fact, search engines love backlinks because they make indexing so much easier and faster for search engine bots. Therefore, backlink building is considered a white hat SEO tactic that is ethical and accepted by search engines — as long as it doesn't violate search engine policies on how backlinks should be acquired and configured. There are some shady backlink building practices that are considered black hat SEO and can get your website penalized or even suspended by Google.
What Types of Backlinks are Against Google's Policies?
When Google first started up, it was more of a free-for-all. Once web developers and SEO experts started catching on to the value of backlinks, they began to exploit loopholes and come up with strategies to build a lot of unnatural links in a short amount of time. Google responded to this by introducing policies and guidelines that underscore what they consider to be acceptable and unacceptable backlink building practices.
One of the areas where you'll run into a problem is paying for backlinks. Sometimes a website will ask you to place a link on your site in exchange for some form of compensation. That is permissible, but it has to be a nofollow link that can't be indexed by search engines and therefore doesn't pass on page rank and influence search rankings. If you accept payment to include dofollow links that can be indexed, your site can be penalized by search engines.
Here is a list of some other types of backlinks and techniques that violate Google's policies:
Links acquired from a private blog network
Hacking sites to leave hidden backlinks in CSS and Javascript
Toxic backlinks from suspicious sites that exist specifically to manipulate search rankings
Over-optimized anchor texts
Excessive backlinks from foreign-language websites
Links that are automatically generated by bots in places such as comment sections and forums
Links from pages using content that has been plagiarized or spinned from another site
Link schemes set up to build unnatural links from non-relevant sites
Will Google Penalize Me If I Get Too Many Backlinks?
Fortunately, the answer is no. As far as Google is concerned there is no limit to the number of backlinks you can amass, as long as they are legitimately acquired and configured according to Google's policies.
How Do I Get Backlinks?
Building a number of high-quality backlinks from relevant sites with domain authority is time-consuming and difficult work with ever-changing goal posts, which is why many business owners turn to SEO agencies for help. That being said, there are some steps you can take that will increase your backlink portfolio and improve your website's search engine optimization.
Quality Content on Your Site
The first thing you should do to increase backlinks is work on including informative, engaging content on your site. Trusted, high-authority websites are only going to choose to link to your site if you have something to offer their site visitors. A valuable piece of content could be a blog post, a review, a product or service page, or even a glossary definition such as the one you're reading right now.
Guest Blogging
Guest posts can be really helpful for link building. The way it generally works is you find a blogger with a website that is related to your brand in some way and pitch them an idea for a guest article. If they like it, they'll post your article on their site and allow you to include a do-follow link back to your website. Contributors sometimes do post exchanges as well, where they'll write a post for you to put on your site in exchange. This is a solid practice that can lead to more future articles (and backlinks) from guest contributors.
Investigate Competitor Backlinks
It's always a good idea to know what your competitors are up to, and backlinks are no exception. Use competitive backlink research to investigate your competitors' backlinks by finding out which sites are linking to them. If they're willing to link to your competitors' sites, maybe they'll be willing to link to yours as well — especially if you have fascinating, informative content that they can guide their web visitors to.
Broken Link Building
This is an interesting strategy that can work surprisingly well. Basically, it involves finding a dead link on a website and creating content on your own site that is similar to what the link was trying to lead to. Then, you contact the website with the broken link and let them know about it, and present your content as an alternative to repair the link. If they choose to replace the dead link with a link to your content, you earn another backlink. For example, you may find a broken link with the anchor text, "How plumbers can save you money on utility costs." You could then write a blog post on that topic, post it on your plumbing site, and offer it to the site with the broken link so they can continue linking to relevant content.
Are you spending too much time trying to do SEO instead of growing your business? Get in touch to speak with industry experts to learn about our four-step SEO process.
Different types of backlinks
Type and what its used for