What is Local Business Listing Management?
Local Business Listing Management is a software-driven service that maintains and updates a business' location data across online business directories, websites, and other platforms. A local business listing includes a business' name, address, phone number, and website address and is referred to collectively as "NAP+W" data.
Business Listing management is usually provided as a software-as-service model that continuously monitors listing across the top online sources (such as the top 100 established websites). If a business moves to a new location, local business listing management platforms are able to push the new location data to the directory websites via their API (application program interface) between the business listing platform and online directory. Business listing services allow a business to get it's data to the top directories quickly at an affordable cost.
Business listing management services have been around for some time and don't provide the SEO value as they once did when it was the "new thing" in marketing. The reason the SEO value has diminished is that getting the service and being in the top directories is now easily reproducible by competitors - in fact, many web design companies now include this ad-on with their services. It is now necessary for any serious local service area business to have the top listing just so that they don't fall entirely behind. A Business listing management platform's core strength provides a multi-location business or franchise with data quickly about the consistency of all of its locations.
Local Marketing Comparison Table
Top 100 Citation Signals
Google My Business Monitoring
Local Keyword Tracking
Niche & Local Sites
Profile Optimization
Google By Business Management
GMB Review Signals
GMB Daily Engagement
Daily GMB Posting
Social Media Management
Content Calendar
Social Media Posting
Keyword Research
Blog Post Writing
On-Page Optimization
Blogger Outreach
New Content & Blogging
Authority Link Building
Google My Business Monitoring
Google By Business Management
Google My Business Monitoring
Google By Business Management
Google My Business Monitoring
Google By Business Management
Google My Business Monitoring
Google By Business Management
Google My Business Monitoring
Google By Business Management
Google My Business Monitoring
Google By Business Management
Business Listing Management vs. Local Search Engine Optimization?
With Local Business Listing management platforms, you are usually getting 90-100+ submission and missing out on many hidden gems that will help you rank. A well trained Local SEO team will manually find more niche and local opportunities that will significantly increase your chances of ranking at the top of Google maps. In addition to finding and managing more opportunities, a Local SEO expert will provide advice on on-page content, create customized business descriptions, and manually review listings to ensure that all the options and features are utilized.
Business Listing Management vs. Google My Business Management?
With Google My Business management you get your profile optimized and worked on a daily basis to send engagement and review signals to Google. The #1 ranking factor for ranking in the map pack is your Google My Business Profile. These signals contribute to your overall local ranking because Google likes seeing owners and customers engage on their platform. Google goes to great lengths to ensure these signals are genuine and put in safeguards to prevent mass distribution. That's why or franchises and multi-location businesses with ten or more locations, the posting process has to be done manually.
Business Listing Management vs. Digital Shift's Social SEO Pro Plan?
With Digital Shift's SEO plan your business in great hands. Our plan is specifically designed to optimize all of the engagement signals to get your ranking on the first page and the top of Google maps. When you choose the SEO Pro Plan, you are choosing to have your business manually handled and cared for by a team of SEO experts, not an automated system. This means your business gets the latest SEO techniques first, and the attention it deserves. Business listing management will only help catch you up with the rest of the industry, to truly perform and receive favourable results your business must stand out and do more.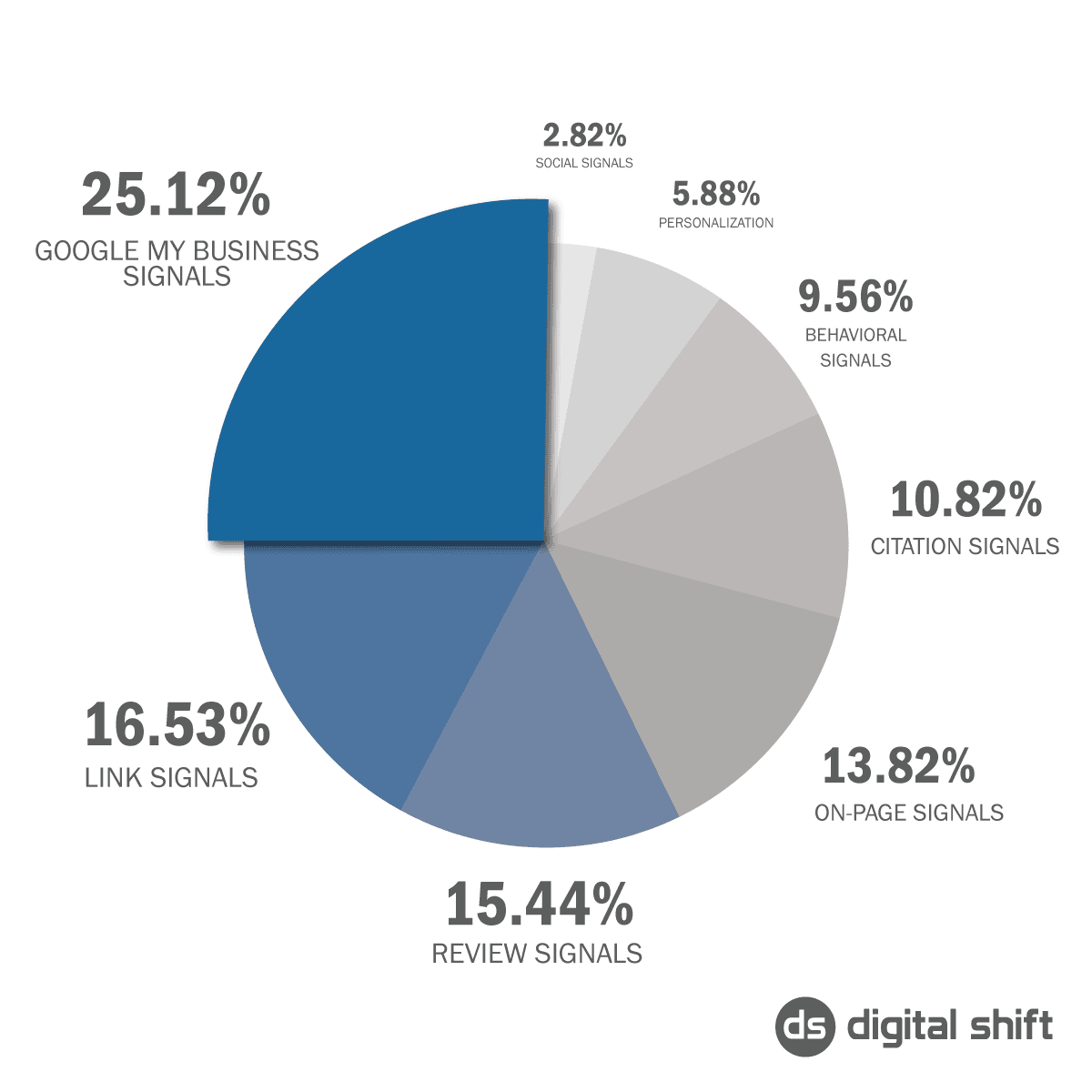 Here's how to get real local marketing results:
Google My Business Signals (Proximity, categories, keyword in business title, etc.) 25.12%
Link Signals (Inbound anchor text, linking domain authority, linking domain quantity, etc.) 16.53%
Review Signals (Review quantity, review velocity, review diversity, etc.) 15.44%
On-Page Signals (Presence of NAP, keywords in titles, domain authority, etc.) 13.82%
Citation Signals (IYP/aggregator NAP consistency, citation volume, etc.) 10.82%
Behavioural Signals (Click-through rate, mobile clicks to call, check-ins, etc.) 9.56%
Personalization 5.88%
Social Signals (Google engagement, Facebook engagement, Twitter engagement, etc.) 2.82%
Ready to Jump-Start Your Online Marketing Efforts?
Call now to speak directly with a local marketing expert and discover what's holding you back! Our expert team is ready to help your business experience favourable long-term results with an all-encompassing strategy. We never work with your competitors. Once you sign up with us, we remain loyal and lockout the location for your industry. Contact us today to see how our SEO services can take your business to the next level!