Instantly Download Your PDF Copy of These Instructions. No Email Opt-in Required!
Snapchat - a great marketing tool for your business! 
Snapchat is a mobile application that allows users to share multimedia messages called "snaps." Snaps are photos and videos that last up to 10 seconds and disappear once seen.
Snapchat enables your business to connect with its customers by sharing snaps and stories with followers as well as directly messaging individual users.
Snapchat "stories" allows users to combine pictures and videos taken throughout the day in chronological order that is accessible for 24 hours. This is a great method to keep your customers or clients up to date and improve brand visibility and loyalty.
With over 200 million users, 20000 photos shared every second and a fast growing mature demographic, Snapchat is the perfect tool to promote and strengthen your brand in the mobile media market!
How to set your Business Snapchat Account up
By following these simple steps, you can create a Snapchat Business Account in less than 10 minutes!
Step 1. Download Snapchat from iTunes or Google Play on a mobile device.
Note: Snapchat is mobile only! There are no official ways to use Snapchat on a desktop computer.
Step 2. Launch the application
Launch the Snapchat app and select "Sign up" on the login window
Step 3. Create Account Credentials
You will be asked to enter an email address, create a password, provide a birth date and finally enter your username.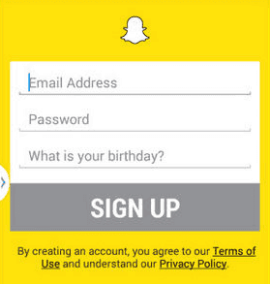 Your username is the main identifier and how users will find you so we suggest making it your business name
Step 4. Verify Account
You will know need to connect a mobile phone number to verify your account. When you input the number, you will be sent a text message with a verification code, enter this to activate the account! The mobile number can be used to find your business on Snapchat. If you do not have a business mobile number or do not wish to include it, you may also complete a visual test that requires you to select images that contain the Snapchat logo in them. Once ready, hit done!
Congratulations! You have successfully completed your Snapchat business account!
Start Snapping!
When you are ready to start snapping but not sure where to start, here are some ideas!
Snap a picture of your storefront or other interesting aspects of your business.
Record a positive customer testimonial.
Start a giveaway or other promotional content
Provide eager followers a sneak peak of something being worked on or possible future concepts
Introduce employees and "at work" snaps - depending on work and industry culture and values
Happy Snapping!
Instantly Download Your PDF Copy of These Instructions. No Email Opt-in Required!