When thinking about Social Media, businesses usually gravitate towards a few key platforms - Facebook, Twitter, Instagram, and LinkedIn. But one of the most overlooked Social Media platforms is Google My Business. This platform can help to support your overall digital strategy when used effectively, and really deserves more attention than it currently receives.
Many companies see Google My Business as a one-time profile update - claim your business listing, add your operating hours, add a few images, and make sure your ratings connect. The posting feature often goes unused without someone looking after Google My Business Management. GMB posts are essential to increasing your local rankings, and they're pretty easy to create. Following a simple GMB posting strategy can help you maintain and grow your local search presence. That's why we've compiled our 9 Top Tips for making the most out of your Google My Business social media platform by boosting your engagement. 
Before discussing how to create more compelling Google My Business (GMB) posts, let's review some of the different types of posts that you should consider.  The types of business posts available to you may vary based on the geographic location of your business, as well as the business category you operate within. 
The 6 Types of Google My Business Posts 
What's New 
This is your spot to provide general information about your business. Use this type of post like other social media feeds, updating your customers about new services, or highlighting some of your past work. Adding Photos and Videos, as well as descriptions and an action button will make your posts more engaging. 
Events
Hosting a Grand Opening, or some other type of event? The Events Post category is perfect for that. All you need is a title, start and end dates, and a time. You can also add videos, pictures, and action buttons to your event posts to help draw in the eye. 
Offers 
Offers = Promotions. If you're having a big sale on a specific service or product, you can promote them through Offers posts. Similar to the other posting types, you can add specific dates and times the offer is valid, pictures or videos to give that much more detail to your promotion. However, unique to Offers, you can add coupon codes and terms and conditions for the specific promotion.
Products 
List your products in an easy to manage way. Product Posts cannot be used to create a shareable post. 
Welcome Offer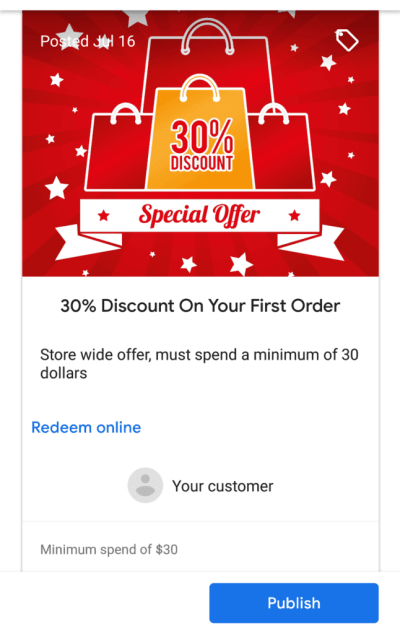 Welcome Offers are similar to Offers, except that they are exclusive to new followers. The Welcome Offer option is the newest post type that Google My Business has created. Click Here to learn more about setting up Welcome Offers.
COVID-19 Update
Google recently added a COVID-19 Update Post feature after the 2019 Pandemic became worldwide.
Hours Update (Depreciated)
Update: a notice will appear on your Google business profile, but this is no longer a post type.
Google My Business used to automatically create posts after a user updated the Hours of Service. At the time of this posting, the feature had been removed.
Now that you know your options when it comes to Google My Business posting - how do you make sure that your posts are going to be well received? Read more to learn about some of the best practices we've developed here at Digital Shift.
How To Get The Most Out Of Your GMB Posts
While each business type should approach Google My Business in a slightly different way, here are some of the Google My Business posts best practices that we've collected over the years:
1. Treat your GMB posts more like a platform for infotainment, and less like an advertisement. 
By building a network of great content, potential customers will begin to trust you, and use you as their preferred business. This isn't to say that you can't have ANY sales content on the platform. If you're having a big sale - people want to know about it! Find a good mix of Promotion, Services, Offers, and News. We recommend making at least 60% of your posts information and news related when you post on a frequent basis.
2. Post location-specific content to target your local audience. 
Google My Business thrives on local content. Posting content that pertains specifically to your local audience can be extremely valuable. If you're part of a local event that's coming up, or have a specific solution to a local problem, talk it up! 
3. Follow the GMB guidelines, and find what works best for your business.
GMB allows up to 1000 characters per post, but recommends 150-300 characters if you're posting frequently. Switch up the length of your posts, and take note of which post length gets the most shares overtime. 
4. Create compelling images that lead to engagement.
It's easier than you think to create high-quality images for social media. There are many tools out there that allow you to create your own images, or buy a license to stock photos. We use Crello and Stencil - the free version includes all basic features that you need to stand out.
5. Imagine your perfect customer and speak to them.
Start by saying to yourself "Hi Peter, did you know that..." and then simply remove "Hi Peter" before typing. Remember - it's real people that will be reading your posts!  It is important to create a vision of your ideal customer so that you can approach them in a very unique way. This is what marketers call a buyer persona. Are your ideal customers more casual ("Hey Peter!") or formal ("Good Afternoon, Mr. Parker")? Notice how you read those differently? Your customers will, too. 
6. Keep your posts relevant to your business, your industry, and the local area.
You want the right people to be finding your posts. If you're a Mattress Company in Texas and start posting about Gardening Tips for Iowa, you're going to be attracting the wrong people. Think about the keywords your customers would be using to find you, and build your relevant and creative content around that. The same should be said about seasons. Take that Gardener in Iowa, for example. While you may have thought of the PERFECT springtime post, it's better to wait until next year than to post it in mid-Fall. 
7. Post on a regular basis with consistency.
This is the key to success on all social media platforms. We recommend posting about 4 times a week. To make sure information doesn't get repetitive or stale, many companies will come up with a bit of a posting schedule to help keep the platform feeling fresh. Maybe you post a 'Tip of the Week' every Tuesday, a 'Client Success Story' every other Friday, etc. Having a guide can also help when the creative juices stop flowing. 
It may seem daunting to keep up with the posting schedule. Many platforms exist to help you schedule content in advance, keeping everything fresh even if you're spending the week focusing on other parts of the business.
8. Add CTAs to your posts to create engagement. 
Ok so they've read your content - now what? A call-to-action is absolutely crucial to your social media activity´s success. Tell your customers what you want them to do. Should they share the post? Call you? Find you on other social media platforms? The options are endless, so don't miss out on giving them one. 
9. Monitor your posts and adapt to your findings.
It seems fairly logical - the posts that get more attention are most valuable. Creating more high-value posts will increase attention. While it's not perfectly correlated like that, it is definitely related. Watch what happens with your posts over time. Do people prefer a certain type of content over others? Are people looking for advice and answers, or something to read when they're bored? Post more about topics that got the most engagement in the past.
Most Common Questions We Get About Google My Business
Do Google My Business posts help SEO?
Yes! Clicks from your posts CTAs through to your website help to build your page rankings.
What is the recommended Google My Business posts image size?
The recommended size is between 400x300 pixels and 1200x900 pixels. Images that don't follow a 4:3 ratio may have the bottom cut off in the feed, but will show once the post is clicked on. You can also add up to 10 photos (or videos)!
Where do Google My Business posts appear?
Posts show up on your GMB profile, and in the maps view.
How long do Google My Business posts last?
7 days! GMB is all about fresh, up to date content. Talk to us about the best way to keep your feed fresh.
How often should I post on Google My Business?
Because of the 7 day expiry, it's best to post to GMB at LEAST once a week. For best results, we would recommend posting a few times a day when possible.
When it comes to Google My Business, the number one rule is to treat it just as any other Social Media platform - that's what it is! Seriously, it's not rocket science. Just "infotain" your audience and you'll be just fine! The more entertaining and informative your content is, the more engagement you'll get. Engagement is our primary goal to create a relationship between our business and our customers. This is the most effective way to build trust online.
If you've been avoiding Google My Business posts for your company, it's time to get started. If not, you're missing out on an opportunity to connect with your customers - an opportunity your competitors might be taking advantage of. Use our guide to get started today.