Creating a Linked Company Page!
LinkedIn is a business and networking social media. LinkedIn allows users to create profiles and connect with
other users in a professional manner. LinkedIn also allows business to create company profile pages. These pages permit users and business to recommend products and services as well as write reviews. Companies are also enabled to create job listings and allow users to apply directly on the site by selecting the "Apply with Linkedin" button. LinkedIn is a great interface for connecting you with potential customers and hiring employees. With over 430 million users in more than 200 countries and 100 million unique monthly visitors, LinkedIn is a must have social media for you and your business!
Note: In order to create a company page, you must have a LinkedIn account.

---
Steps to Create a LinkedIn Company Page:
You will be navigated to the LinkedIn company pages section. Click "Get Started". You must have a LinkedIn account to create a company page.
You will now be directed to the company addition page.  Enter your Company name as well as your company email address.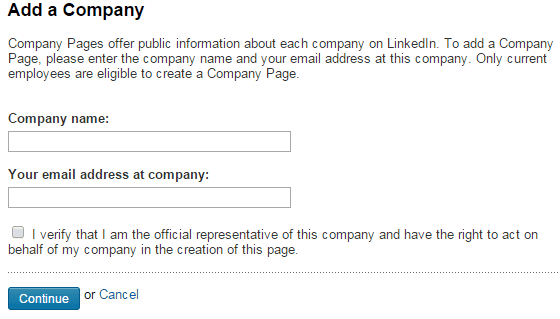 If the information is accepted, you will be asked to check your email inbox for a confirmation email. Further instructions will be provided in the email.

Navigate to your inbox and select the LinkedIn confirmation email. If you cannot find the email, ensure it did not land in the spam folder. If it is not there either, ensure you provided the correct information.
You will be asked to sign in using your personal LinkedIn account. Sign in or if you do not have an account select "Join LinkedIn."
You will now be directed to the company page overview. This is where you provide information about your business.
You can also allow employees to manage the page as well. You must be connected with them on LinkedIn in order to select them as a designated admin on the Company page overview section.
Once you have assigned designated admins, now you can start filling out the Company page information. You must include company type, size, website URL, industry, and operating status in order to proceed. Also, fill out the company description as this is an excellent way to tell your story and inform others why you are unique.
Once the appropriate information has been filled out, it is time to upload your company logo and images. Provide professional images of things such as storefront and product lines. Be sure that you have a properly sized logo as this will be the first thing people will see when they visit your company page.
Once done, simply click on "publish" located at the top-right side of the page. 
 Congratulations, you now have your company's LinkedIn page created and setup!
To view information about who's following your new LinkedIn company page, navigate to follower insights listed in the "Tools" drop-down menu located in the top-right corner of your company page.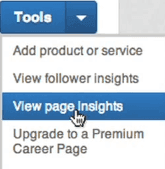 To view your page analytics head over to page insights in the same drop-down menu.