What is B2C?
Business-to-Consumer (B2C) is a transaction where businesses sell a product or service to consumers. This can range from buying clothes at the mall, eating dinner at a restaurant, to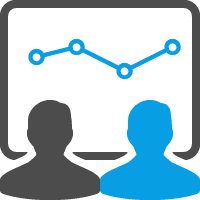 purchasing a movie online. Recently, there has been more of a shift to online purchases, where retailers sell their products over the internet. It is the model that most people are familiar with even though they might not know the definition. There are three other e-commerce categories in addition to B2C. There are B2B (Business to Business), C2B (Consumer to Business), and C2C (Consumer to Consumer).
---
Online Challenges for B2C
As websites become flashier and easier to navigate, the user must constantly be updating and refreshing their content. To stay competitive websites must also be optimized to attract web traffic, making search engine marketing an absolute must! Consumers seldom visit websites on the second page of their search results, meaning if their page isn't optimized and easy to navigate, they'll surely lose customers, site traffic, and potential sales.
Another challenge for online B2C employers is the payment process. Customers must trust the website before they're willing to divulge their credit card information. If the site is not properly encrypted through a recognizable company, potential customers won't hesitate to find a new supplier.
---
Knowing your desired end customer is essential in determining your marketing strategy. In B2C the end customer is the consumer themselves, whereas, in B2B, the end customer is actually a business. This is extremely important because it affects your marketing plan. If the final customer is a business, it won't help to increase advertising on the radio or television. However, if your final customer is the consumer, like in B2C, advertising on the television or radio could be beneficial. You must always consider the end customer when designing your marketing plan, as the 4 P's will vary depending on which strategy and type of transaction occurring (B2C, B2B).