Start Managing Ads with Your Facebook Ad Account!
You may have a precise idea of your ideal target customer in mind already. One of the benefits of creating a Facebook Ad account is that it allows you to advertise on Facebook with a great deal of precision! Whether you are a franchise, small business, advertiser, or an in-house marketer asked to manage ads, it would be ideal to create a Facebook Ad Account if you don't already have one. Also, if you are creating an Ads account for your client, you will be able to set up an account for them through your Business Manager account.
So, what is a Facebook Ad Account? It's used to manage your ads on Facebook and can be managed by multiple people. You also have the power to allow different levels of accessibility to each individual by assigning specific roles. How do you create a Facebook Ad Account? We've got you covered.
Step 1: Log in to Your Facebook Business Manager Account
Head over to your Business Manager account and click on Ad Account Settings.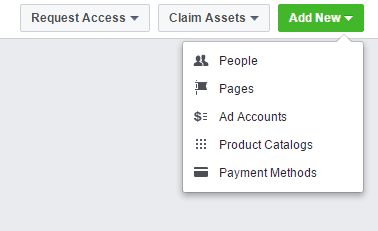 Step 2: Create a New Ad Account
Enter an ad account name and link it to an advertising profile. Select your time zone, currency, and payment method.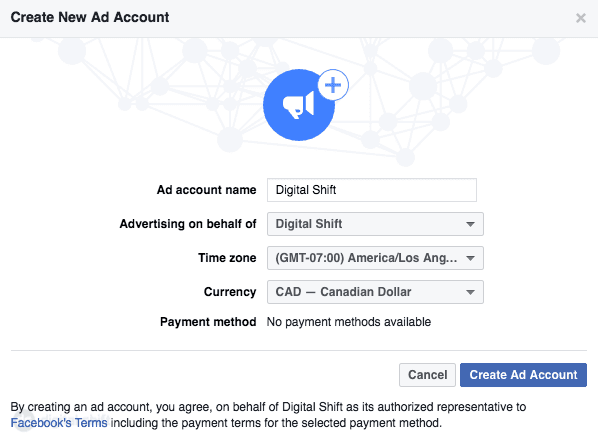 Step 3: Add People To Your Account
Add users to manage your account on behalf of your business. In order to give a user permission to manage your account, you'll have to add them as a user to your Business Manager. Only once you've done so will you be able to grant them access to your Ad account, as seen below.
By clicking on "Add A Person", a window will pop up and you will be asked to enter a friend. Fill in the appropriate information and assign them a role of either administrator, advertiser, or analyst. For instance, if you are a business running local SEO services to get traffic you may want to review your audiences or have your service provider added to your account. But if you are the Owner Account of the Business Manager and don't need anyone to manage your account, you can skip this step.
To get a better understanding of what each role does, we've detailed the responsibilities each individual would have.
Administrators would have access to essentially everything.
Managing Ad account settings, payment methods, and account spending limits.
Adding people and assigning Ad account roles
Creating and editing ads
Seeing Ad account reports
Advertisers would only get access to two features.
Creating and editing ads
Seeing ad account reports
The Analyst would only get access to one feature.
Seeing Ad account reports
Pro Tip:  Business owners/managers should create their own accounts as administrators to own the account and grant advertiser access to their marketing partners.
Step 4: Confirmation of Account Creation
Simply click "OK" to continue to start playing around with advertising features. You will be required to set up a payment method eventually, so a convenient link is presented on this screen as a reminder.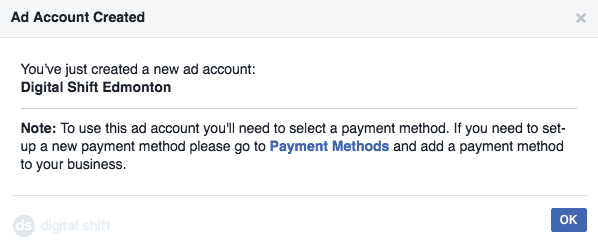 By clicking okay, you will be taken to the payment setting screen. If you have a payment method it will be displayed here.
Step 5: Adding A Payment Method
Since we've created a new account as a test we will be adding the payment method by clicking the "Add Payment Method" button. The payment method is added to your Facebook account and is encrypted and secure.

Step 6: Payment Details
Enter your payment details and you're ready! If you don't complete this step, you can go back and do it later. You will have access to targeting and audience setting but will be unable to run your campaign until the payment information is entered.
Now you are ready to start advertising on Facebook. Ensure you define your ideal customer before you create your first ad. Doing this will help save you from costly beginner mistakes. Don't forget to follow our step-by-step guide on creating a Facebook ad.