The remarketing list is created by having the visitor download a pixel by visiting a specific page or pages on your website. A remarketing list is where you segment your traffic into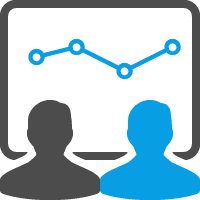 different cohorts. For instance, you could segment your audience into four different categories:
Customers who recently purchased
Visitors who only browsed through your website
Visitors who have items in their shopping cart but did not purchase
Past/frequent customers
A defined audience allows you to target or exclude your desired marketing strategy. Below are some examples of strategies you can take with your targeted audience.
Goal                                                                                                    Audience                                                           Action
To only reach new customers                                                         Existing customers                                            Exclude existing customers from keyword bidding
To increase frequency with users engaged                                  Visitors who didn't purchase                           Target audience with more generic keywords
To ensure loyalty of frequent/existing customers                      Customers                                                           Target audience with competitive terms
What Are Basic Strategies For RLSA?
There are two basic strategies for RLSA:
Optimize bids for your existing keywords for visitors on your RLSA.

You can show different ads to visitors who have items in their shopping cart but have not yet purchased.
You can increase your bid by 25% for visitors who have previously viewed your website in the last 30 days.

Bid on keywords that you wouldn't normally bid on for customers or people who have recently visited your website.

For example, you can bid on more generic keywords.
How Can You Use RLSA Effectively?
First, create a remarketing list and add a snippet of code you obtain from AdWords to your site. This code will tell AdWords to add every site visitor to your list. For example, when people visit your homepage or a product page, the cookies associated with their browser will add this visitor to the remarketing list. Keep in mind that your new remarketing tag can be used on every page on your site.
Once the remarketing tag is added, you can add the remarketing list to an ad group which will be the tailored audience you are targeting depending on keywords, bids, and ads. If you are showing an ad to a specific remarketing list, that ad will not be shown to others who are not part of that list.
Example
People looking for tennis rackets visit a sports apparel website to check out brands and styles. The site can add these shoppers to a "tennis racket category" list, and the next time the visitor searches for tennis rackets, the site can bid more on these visitors or show them different ads.
Important Notes For RLSA
You are able to have more than one remarketing tag on a page. But be aware that this will increase your site loading time.
Based on sections of your website, you can create as many lists as you want.
By using more refined lists, you can categorize your visitors better and make more effective use of your ads and bids to optimize sales.
You are able to place one tag in the footer of your site that will work on all pages. Using a content management system to place the tag works as well.