GMB suspensions are typically taken when a listing seems to violate Googles guidelines for representing businesses on Google. It is also possible for a listing to be suspended after a Google user reports the Google Map listing.
You can find Google's guidelines for representing a business here.
GMB suspensions can be frustrating as there is no indication to what caused the listing to be suspended, so guess work and troubleshooting is required.
2020 update: We have noticed an increase of suspensions due to Google user reports as well as issues with conflicting information provided by Data Aggregators
2 Types of GMB Suspensions
Soft Suspensions
A soft suspension, sometimes referred to as a "disabled listing" by Google, is when you are no longer able to manage your listing, but the listing still appears on Google and Google maps.
In these cases, the listing is essentially unverified and needs to become verified again (once the cause of the suspension has been fixed).
Hard Suspensions
A hard suspension means that the listing has been removed from Google Maps.
A listing can be hard suspended via:
an algorithm - listing suspended automatically if any flags are raised when scanning your listing, or due to a small change inside the GMB dashboard.
Google employees - manual review of your listing and suspending an account if the employee feels your listing violates guidelines
Google users - anyone who reports listing as "spam" or "doesn't exist" can trigger a suspension if the edits are approved. Depending on the users' trust, listings can be automatically suspended or require peer/Google employee verification.
A Listing will be Hard Suspended if They Find:
A Service area business with multiple listings
Use of a PO Box, mailing service, or virtual office as your address.
The Creation of multiple listings for the same business/location.
A Listing for an online business that doesn't do in-person contact with customers.
A Listing for a business that runs a service or class that operates in a building you don't own (ex. book club meeting in a community center).
Use of keyword-stuffing in business name, creating fake listings, or purchasing fake or paying customers for reviews.
Posting prohibited content, such as illegal and fraudulent activities
Using the "Website URL" link for anything other than the businesses main website
Other Suspended Listings Causes
Sometimes listings can be suspended for no reason and can be triggered randomly (like after adding a photo), named a false-positive
A spammy account can become suspended (many false google edits), which also suspends listings the account manages
Next Steps
Do not attempt to create a new listing, you would lose on the ranking power and reviews.
Do a review of your listing to see if there are any possible issues with the above suspension causes and find a solution. This could be due to issues with overlapping territories (with a franchise), spammy GMB posts, or if a location was reported by a Google user.
Make sure to review both the prohibited content guidelines as well as Google's guidelines for representing a business to determine if your listing was suspended due to violating these guidelines.
Reinstate Your Listing
Once you believe that your listings issues has been resolved - it is time to complete the Google My Business local business reinstatement request form found here.
Before you can submit the form, you will need to answer a few yes or no questions, which will determine if you are ready/qualified to submit the reinstatement request.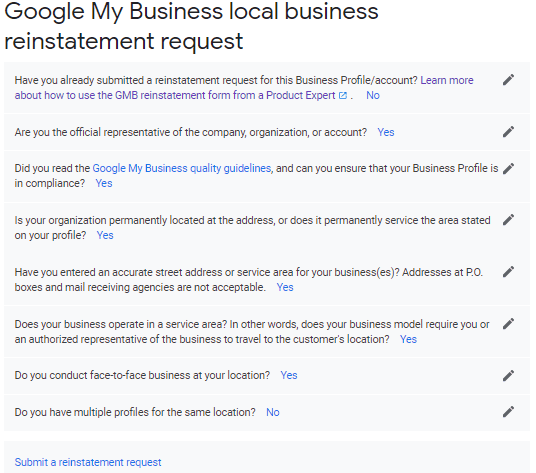 Info Needed To Reinstate Listing
Official email address used to mange the GMB listing
Name of business
Address of Business or Service Area
GMB Listing URL (example: https://business.google.com/u/5/dashboard/l/################)
A phone number to reach you
Additional information, such as what happened when the suspension was triggered, if you believe the suspension was false - explain why, or explain how you fixed the issues that caused the suspension
Attachments (highly encouraged to use!) - use the attachments space to upload a zip file that proves the business and address is legitimate. Examples of attachements:

Legal business documents
Image of storefront/ inside of your office with clear sign
Uploads can be images of trucks/vehicles with branding
Images of employees at the location
You can except to hear back from Google in few weeks.
If more than 3 weeks pass and your listing hasn't been reinstated, you can contact GMB on Twitter or Facebook to ask for an update.