Add Your Business to Apple Maps!
Follow our step-by-step guide to add your business to Apple Maps. Apple Maps is a web mapping service similar to  Google Maps and is available on all Apple products. The maps application allows users to travel to a selected address with turn-by-turn navigation. In order to ensure Apple product users can find your business, you need to add the business to Apple Maps! Claiming your business on Apple Maps will help with Local SEO and is a must-have for your Local SEO strategy to allow users to find you!
8 Simple Steps to Add your Business to Apple Maps
Step 1.
Navigate to
https://businessconnect.apple.com/
and sign in with an Apple ID you are comfortable using with your business or create an Apple ID through the "Create One" link.
Step 2. Once you are signed in, you will be asked to add your business. Be sure to read and Agree to the Terms of Use that pops up!
Step 3.  Once you agree to the Terms of Service (TOS) you will be asked to enter your Business' name and postal code.

Step 4 A. Select your business from the listing
OR
Step 4 B. If your business was not found, ensure you have input the correct information and then select "Add New Business."
Step 5. You will be directed to a page that asks for you to input the businesses information
Once you have input all the correct information, select continue.
Step 6. Apple will now give you the option of verifying the listing now or later. If you choose to verify now, Apple will call the number you provided and give you a pin to input.

Step 7. Add and confirm your business location, category, and hours of operation. Make sure you only include the most relevant categories.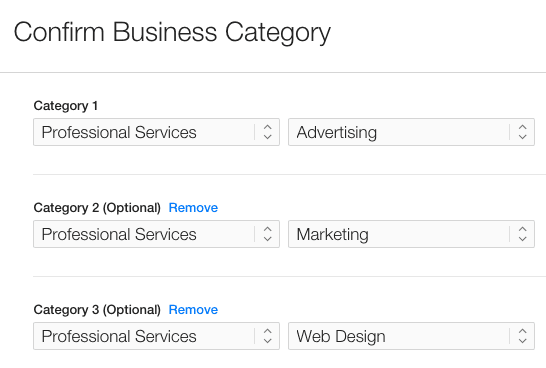 Step 8. Add your website and social media accounts. This will help validate your business and add more information.
If you don't have a website, our team can work with you to create a professional website with affordable monthly payments.
If your business does not have any social media accounts, check out our social media blogs or we can create professional social media pages for you!
If you did not verify your business in step 6, make sure to do so to complete the listing!

Your Business Is Now Ready For Apple Maps

That's it! You now know how to add your business to Apple Maps! Apple Maps for Business is powerful, but we alos recommend that you add your business to Google as part of your Local SEO straegy! If you have any questions leave a comment and we will get to you as soon as we can! If you need help with getting more local awareness we can help you bt adding your busienss to local and niche directories through our Local SEO Services.

Thanks for reading our blog! If you enjoyed it or found the information valuable please share it with others on social media!